Well Ladies and Gentlemen it's August and you know what that means, NFL Training Camps have begun. With all kinds of trades, retirements, and free agent signings. There are a few players that people are keeping their eye on. Those players are Darrelle Revis, Brett Favre and Sam Bradford. Well I am here to give you my thoughts on those 3 players and then i will also give my 2010 NFL Predictions.
Darrelle Revis-New York Jets CB
Well Revis only has one request, to be the highest paid CB in the NFL. Revis who was an All-Pro CB this past season, is now holding out from the Jets training camp until the Jets either make him the highest paid or give him a pretty damn good offer for him to come back. I mean after the season he had last year, I think he kind of deserves this money that he has coming to him.
Brett Favre-Minnesota Vikings QB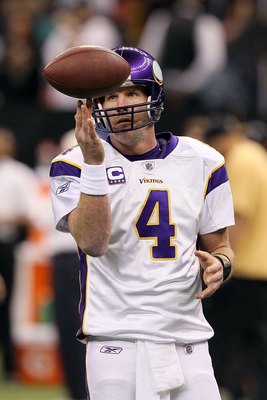 The word on the streets is that Favre is retiring, well the word on the street may be wrong. A couple of reports out there say that Favre is planning to retire. Favre himself says it all depends on how well his ankle has healed. Now reports say it that the Vikings are willing to increase his contract and put incentives to where he can make up to $20 Million. Although he is 40 years old, I think he is still a key piece to the Vikings.
Sam Bradford-St. Louis Rams QB 2010 #1 Draft Pick
Well the #1 pick has been signed with the most guranteed money in a contract for one player. Bradford agreed to a six-year $70 Million deal with $50 million guranteed. I think Bradford will help the Rams rebuild there franchise but I don't see them doing anything for 4 years.
2010 NFL Predictions
NFC East: Dallas Cowboys
NFC West: San Francisco 49ers
NFC South: New Orleans Saints
NFC North: Minnesota Vikings
NFC Wild Cards: Philadelphia Eagles & Atlanta Falcons
AFC East: New York Jets
AFC West: San Diego Chargers
AFC South: Indianapolis Colts
AFC North: Baltimore Ravens
AFC Wild Cards: New England Patriots & Pittsburgh Steelers
NFC Champion: New Orleans Saints
AFC Champion: New York Jets
Super Bowl Champions: New York Jets
Super Bowl MVP: Mark Sanchez
NFL MVP: Peyton Manning-Indianapolis Colts QB
Rookie of the Year: Dez Bryant-Dallas Cowboys WR
Coach of the Year: Rex Ryan-New York Jets Coach