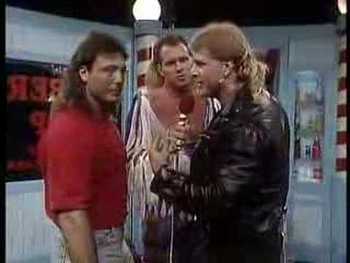 Both Johnny C and I have made our hatred and dismay over the Linda McMahon induced PG-Era and overall state of wrestling well known. We firmly believe that wrestling was far better in the 90's and early 2000's. In fact, even the mid 2000's are much better than the horseshit that is shoved down our throats these days. Consequently, it's no surprise that I have burned countless number of hours looking up old matches, and promos on Youtube, Daily Motion, and the dozens of other websites which host wrestling videos. Now that we have turned myself into a fancy man (with my own blog) I figured to turn all those wasted hours into blog posts. So join me as I delve into the Wrestling Vault to relive my favorite videos.


Those of you who read the blog back in late March/early April might remember that "

Shawn Michaels: A Retrospective

" appeared in Future projects. John and I were both supposed to write it together. Unfortunately, for a number of reasons, we were never able to get around to it. Part of it was poor planning on my part, I was 99.9% sure that HBK was set to retire at Wrestlemania, and we should have started writing the retrospective earlier, so we could immediately put it up once the Michaels Era came to an end. Part of the blame also falls on John, since he was supposed to write the biography (kayfabe and real life) section of the Retrospective, but he got busy and couldn't write it. With better planning and less procrastination, we should have been able to put up the Retrospective, but we didn't. Now, it's time to corrrrrrrrrect that mistake, and I will be doing it by posting great matches, promos, and moments from Shawn Michaels' legendary career. How long will this go on? Till, I run out of material about The Heartbreak Kid, and that won't be for the foreseeable future. Michaels has contributed so many great memories to wrestling fans everywhere, I don't think a single (albeit massive one) wouldn't really have done him justice, so this might work out better in the long run.

Holy Fuck, it's already June... Nearing 3 months of having started this blog Thanks to everyone who has read this thing, you guy are what keep me writing.

The curse of any good tag team is the eventual break up as the Rockers were soon about to about. This is a clip that many of us are familiar thanks to the WWE always, and I mean always played it when they were playing up Michaels' unpredictability or lack of trust. After being unable to capture Tag Team gold, the Rockers were beginning to have their issues (leading up to Michael's foray into singles wrestling) and it all culminated with a segment on the Barber's Shop. The Rockers or Jannetty came out to assure the world that there wasn't any distention among The Rockers. Of course, Michaels had other ideas, thus began the road to one of the greatest singles wrestling careers of all time, but before that we go to the Barber's Shop.


Last but not least, I want to thank JD and Steam (over on
Wackbag
) for helping me compile the list of matches and promos that are going to be posted here in the future at least in reference to Michaels.
-------------------
Thanks for reading!

Comment if you like, we would really appreciate it if you do.

If you need to contact us for any reason, telling us how great we are, asking us some questions, making suggestions, or even complaining, just e-mail me at philly_homer@yahoo.com