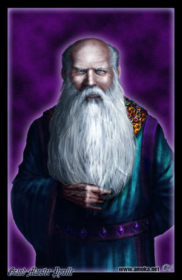 Yesterday
, GRRM mentioned a couple of clues on his blog about a potential casting.
The old maester has lived many lives, brief but numerous. In his youth he fought in the wars that some say inspired all of this. He has been a king and a god, but he'll always be daddy to me.
Now over on
Winter is Coming
, the commentators figured out those clues within 6 or 7 comments, since
Roy Dotrice
fought in World War II, played the father in
Beauty and the Beast
(a show that George used to write and produce for), played Zeus in Hercules (TV show), and King Balor in
Hellboy II: The Golden Army
.
Today, the author of A Song of Ice and Fire series
confirmed
that the man who narrates the audiobooks to his series has officially been cast as Grand Maester Pycelle.
Martin mentions Dotrice's work on the audiobooks and his familiarity, which leads me to believe that he had a hand in this casting. Combined with his words on Dotrice's casting, I believe that GRRM might have exerted a bit of of that co-executive producer influence to get Dotrice involved in the show. Here is what George had to say on the casting.
Roy is an extraordinary talent who first took up acting in a prisoner of war camp during World War II, and has been working constantly ever since. Among his many, many roles was his portrayal of King Edward IV in the classic BBC production of THE WARS OF THE ROSES. He's also in the Guinness Book of World Records for his one-man show, the play BRIEF LIVES; most performances by an actor in a one-man show. (If you ever get a chance to see it, do. It's a great play, and Roy is wonderful). He played Zeus in HERCULES and XENA. But for me, of course, Roy will always be Father, the role he performed on BEAUTY AND THE BEAST, where I was a writer/ producer for three seasons.

Working with Roy Dotrice for those three years was a singular honor, and one of the highlights of my decade in Hollywood. He's the sort of actor who will take every line you write for him and make it better. Not to mention, he knows some great stories about Charles Laughton. He was my first and only choice as reader on the Ice & Fire audiobooks, and he has done an amazing job there as well... not simply reading the text, but acting it out, giving every character his or her own voice. He may be in Guinness for that as well: most voices by a single actor on an audiobook.

The moment the HBO project was given the go-ahead to film, we knew Roy had to be a part of it. The only question was which role. We ruled out Arya, Bran, Dany, and Tyrion, though he's done a great job with all of them on the audiobooks. Instead Roy will be playing Grand Maester Pycelle. It will be a real thrill to be working with him again, and I have no doubt that he will elevate every scene that he's in
Now, I'm not personally familiar with any of our new Pycelle's work, so I looked him up on Youtube. I found that the man is a pretty good actor and has some versatility to him as I saw him perform in a comedic role, pay a tough father, and even act as a coach. But you can judge for yourselves.
Another fan of the books gets cast, I'm telling you people, if you are a fan of the books, you might as well go out and audition or send a tape in. Why knows maybe you get cast too.
Don't forget to check out my piece on who should
play Littlefinger
, I was quite proud of it.
-------------------
Thanks for reading!
Comment if you like, we would really appreciate it if you do.
If you need to contact us for any reason, telling us how great we are, asking us some questions, making suggestions, or even complaining, just e-mail me at philly_homer@yahoo.com

Credit to the excellent blog Winter is Coming f
or a lot of the info on here. Also the artwork belongs to Amoka, who did a wonderful job doing portraits for many of the A Song of Ice and Fire characters.